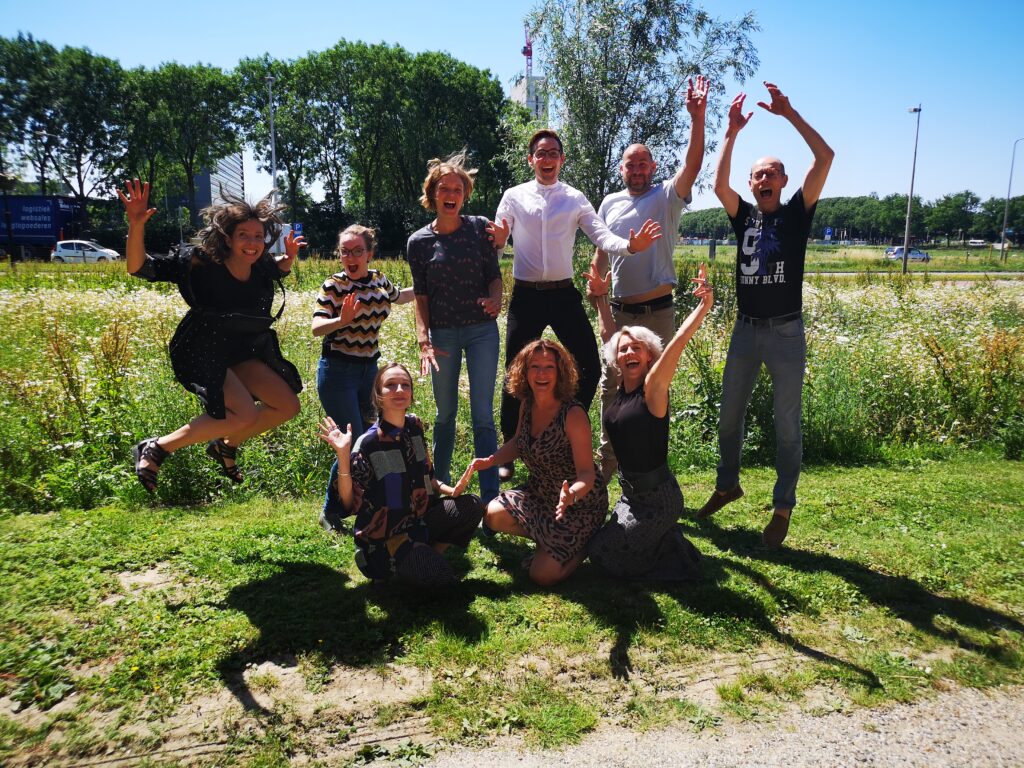 Join our PAR Practitioners Program, starting June 2021!
In our work, we often wonder how to get people on board and join 'our project'. Even when we think we have the perfect solution for something, we get disappointed by the lack of energy within society to make use of it or to join in. The thing is, people most often don't want to join other people's projects. They want to join their own projects! Then how do we create a sense of ownership over the project? How can we get full commitment of people to create the movement we (and they) like to achieve?
Participatory Action Research (PAR) is an approach that enables large groups of people to co-create the positive change they wish to achieve. In the PAR Practitioners Program you will learn how you can facilitate this societal movement!
SEVEN SENSES is a growing network of Participatory Action Researchers all over the world. We perform PAR projects in all kinds of different settings on different complex problems (find here our projects). Participatory Action Researchers love their work for the high impact it brings in communities, for how much it empowers people and simply for making people happier, more self-confident and cooperative.
At the same time, there is a growing demand for PAR worldwide, from governmental- as well as non-governmental organizations, to tackle complex problems in numerous different domains. As such, SEVEN SENSES aims to train new enthusiastic professionals in conducting PAR and give them opportunities to work with SEVEN SENSES in PAR-projects of their choice as an independent Participatory Action Researcher.
The Program is designed for everyone interested in facilitating positive change by communities through applying Participatory Action Research.
The facts
Start Training Track: June 21st 2021
Training days: Monday 17.00- 20.00 and Thursday 10.00 – 16.00
Language: literature is mostly in Dutch, training will be in Dutch or English
Other work: readings and assignments (8-10 hours per week)
Literature: Handboek Participatief Actieonderzoek. Samen bouwen aan een betere wereld. Authored by SEVEN SENSES founder Madelon Eelderink
Trainer: Madelon Eelderink
Location: depending on corona situation, the training will be online or live, taking into account corona measures.
Difficulty: HBO/WO thinking level
Maximum number of participants: 12 (full is full)
Prices:

Training Track: €970,- Ex VAT
Training and Internship Track €1270,- ex VAT

Subscription deadline: may 21st 2021
Subscribe to: academy@seven-senses.nu
Include in the subscription: contact details, Track of choice and (for Training & Internship Track) cv and motivation.
Join the PPP and receive our Handbook on Participatory Action Research for free!
Learning goals
Throughout this PPP you will:
Learn the basic principles and ethics of Participatory Action Research;
Learn how to set up a PAR-design;
Get skilled in multiple PAR methods;
Learn about community psychology and factors that drive motivation to act together;
Learn how to facilitate the co-creation of innovative solutions among local stakeholders;
Learn about power dynamics and how they influence the design and realization of co-created initiatives;
Get the right communication and social skills and learn about your role as an action researcher;
Learn how to monitor and accelerate co-created initiatives;
Inspire many people with what you accomplish!
Program Tracks
The PPP consists of a 5-week training and a 12-week internship, starting June 15th 2020. As a participant of our PPP, you can choose whether you want the Training Track (only the 5-week Training) or the Training & Internship Track: the 5-week Training followed by a 12-week internship.
If you finish the Training Track, you will receive the 'Certificate of Participation'. If you finish the Training & Internship Track, and have shown you have acquired all  PAR-competences during your internship, you receive the 'Certificate of Achievement'. The latter makes you a 7Senses certified, independent Participatory Action Researcher with which you can join paid 7Senses projects, in the Netherlands and/or beyond!
The training track
During our Training Track, you will learn all about PAR principles, the PAR Cycle, PAR-methodology and the co-creation of solutions with communities, sustainable impact and all that comes along with the PAR process. During these 5 weeks, you will get training each Monday evening and Thursday all day. After the course, you will be packed with the skills you need to perform a high quality action research that you can apply in numerous different settings.
The internship
From August 2019 onwards, you will perform an internship at an organization or community of your choice. You can either organize your own internship or join one of the 7Senses internship placements if applicable. In a personal pre-program session we will discuss what suits you best and go through the different options. During the internship period, you will have in total six group guidance sessions every two weeks on Monday evenings.
The supporting assignments of the PPP are set up in such a way that it helps you get experience in what you learned during the trainings of the PPP and -for Training & Internship participants- to prepare for your internship.