I often get the question what Participatory Action Research (PAR) actually entails. "Research, so you are going to collect data and deliver a report to get dusty on a shelf?" "Action, so you are going on the streets for a strike to protest with flags and banners?" I know, I know. The name may be confusing, however, PAR is none of the above. In this blog I describe six basic principles of basic principles of Participatory Action Research.
What is Participatory Action Research?
Participatory Action Research is basically the bridge between science and practice, combining the best of the two. PAR facilitates people in a community to co-discover, co-design and implement solutions to the problems and challenges of their community. This approach strongly differs from the traditional top-down approaches as it focuses on the strengths within a community to solve the issue with the crowd rather than from institutions? At SevenSenses we truly believe that this approach has a strong potential to accelerate solving multiple complex, wicked problems worldwide. Let's go through the main principles of Participatory Action Research. To make them all some easier to remember -with a little creativity- I managed to turn them into the SENSES:
S – Science and practice merged together
E – Engage the community: a community-up approach
N – No debate but a dialogue
S – Social learning among and between community members and researchers
E – Embrace the strengths of a community
S – Sustainable solutions & empowerment
The basic principles of Participatory Action Research
1. Science and practice merged together
When conducting PAR, you don't only collect data as in traditional scientific research, you also facilitate a process in which proposed solutions from the community are being put into action by the community. In traditional science, concepts and theories are often formulated in the 'ivory tower': from behind the desk, by an intellect. In practical development cooperation, people often start a project from their own passion for helping people, while lacking the (scientific) knowledge and -skills required for successfully implementing the project. PAR merges the two together. Through on-the-ground research, we zoom-in to the different perspectives on a particular issue, by different stakeholders. Through the co-creation of solutions with these stakeholders, they put their findings into practice.
2. Engage the community: a Community-Up Approach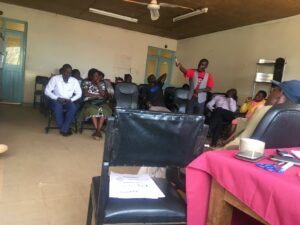 PAR is a process in which solutions are not being brought in by institutions solely but co-created from scratch with all involved stakeholders. With the available means, manpower, talents and other assets present in the community. I don't like to use the word bottom-up, as it would suggest local people are the lowest ones or 'the drain well' in society (as opposed to top-down, which means from the institutional world, such as governments, NGO's and/or business). I would rather call it a community-up approach: the community consists of institutional as well as non-institutional people. Through PAR, institutional stakeholders no longer 'push' their ideas on the 'target group' (hate that word), as often happens in traditional development cooperation. They co-create solutions together with all involved, with all people's voices are being heard. That's how you get solutions that perfectly fit the local social-cultural context!
"What would happen when people all over the world practice PAR, giving all people of a community a voice and focussing on the strengths of the community? If entire communities co-create new solutions and innovations, rather than external, institutional people solely? What happens if -as a result- institutions no longer waste funds? And in the end, what happens if people no longer rely on western aid?"
3. No debate but a dialogue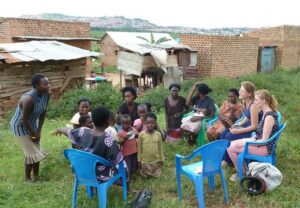 Very often, the goals of problem owners are not the same as the goals of the NGO. As a result, I often see NGOs trying to convince their 'target group' of the relevance of their project. For example, an NGO may be very nature conservation oriented, whereas the residents of a certain area favor practical comfort for themselves and their immediate family. A qualitative research I conducted in Bolivia, showed that different stakeholders had these different views, yet the project -an ecological sanitation project- was successful as it fulfilled both goals. [Read the scientific publication of this research here]. PAR practitioners acknowledge that not everyone shares the same goal and embrace the diversity of perspectives. They open up the dialogue about it, rather than make it a win-lose debate.  Through stakeholder dialogue and opening up at the normative level, people are able to find solutions that fit all goals. Not uncommonly, beautiful new innovations arise that no one had ever thought of before! As such, one needs no effort to convince people of a certain idea. How much time, effort, money and campaigns would that save?!
4. Social learning among and between community members and researchers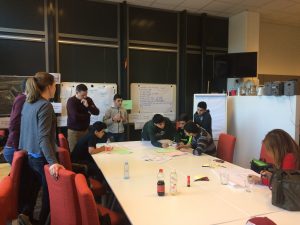 PAR is a process in which perspectives and solutions proposed by the different stakeholders are analyzed by the researcher and shared with the community, in a cyclic manner of data collection and reflection. As such, the members of a community get to understand people's perspectives, their fundamental beliefs and their norms and values. This results in a mutual understanding of each other's behavior, regardless of whether or not they agree with each other. Bringing different kinds of knowledge together -from scientific and expert knowledge to tacit knowledge- creates a rich body of understanding of the broader context in which the problem is embedded, and how different problems and solutions are interlinked. This process of social learning among and between community members increases trust in each other and creates a more open and cooperative mindset to tackle the challenges together.
5. Embrace the strengths of a community
When working on complex problems, we tend to focus on that problem solely. According to the social constructionism theory, focusing on problems creates more problems. PAR has a strong focus on the assets of a community: things that are going well, things that people are proud of, local talents, manpower, abundance and more. It unlocks all the potential that community members and practitioners are often unaware of.  We combine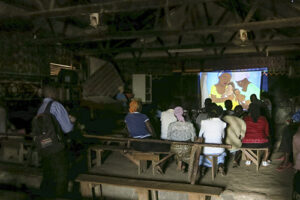 those assets with the challenges of the community and let the community members analyse it and make new creative combinations. As such, people co-create simple, low cost yet sustainable solutions based on strengths that are already present in the community. The Healthy Cooking Challenge is a great example of how a slum-cinema -an asset in the community- helped to tackle lung problems in children (do you see the link? No? We neither at that time), leading to unexpected, yet astonishing results!
6. Sustainable solutions & empowerment
Since people contribute to building solutions for a social issue affecting them, they feel more ownership of the co-created initiative(s). They give insights based on their knowledge and perspectives, and solutions that they feel are feasible within their social-cultural context. Solutions are easy-going and concrete, so making a start is not something to have nightmares about. Instead, people often get very excited to start their freshly co-created initiatives! Through this excitement and en masse understanding of what is going to happen, implemented solutions bring impact and last. Moreover, as people have gone through the process of PAR, they themselves use the system to further innovate the solutions!
To conclude
This blog described six basic principles of Participatory Action Research. The process of Participatory Action Research enables people to tackle complex community issues by themselves, with local means, talents and all other local available means. This is empowerment pur sang. The process of PAR sparks local innovation, whether in the field of (public) health, nature/environment, human- or animal rights, poverty issues or whatever else. How great would it be if many people all over the world practice PAR in all kinds of settings and communities? What happens if – as a result- institutions no longer waste funds? What happens if people no longer rely on western aid?
I can't even oversee the massive positive boost we can give to the world, tackling its most complex issues using the power of what we have in abundance: people.
Do you want to (learn to) conduct Participatory Action Research? Check out our various possibilities, such as joining the SevenSenses Action Research Academy for the SevenSenses Challenge, the PAR Practitioners Program or an in-company training in PAR, a PAR course at your university and many others! 
Stay updated! Subscribe for our E-Zine below and receive our updates, tips, blogs, video lectures and more in your mailbox.